Meet the World's Real BFG
(Big Friendly Giant):
Roald Dahl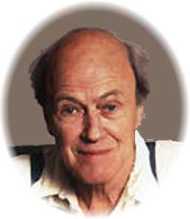 At six feet, six inches, Dahl really was a big friendly giant whose books and stories have touched the lives of many children. His influence is still felt today all around the world. Read on to learn more about the life of this inspirational author.

Growing Up
Roald Dahl was born to Harald and Sofie Dahl on September 13, 1916 , in Llandaff, Wales . When Dahl was three years old, his father and older sister Astri died, leaving his mother to raise her own four children (Alfhild, Roald, Else, and Asta) and two stepchildren. Roald was her only son. Both of his parents were of Norwegian descent, and Roald loved listening to his mother tell stories about trolls and other Norwegian myths. At a young age, Dahl was already mesmerized by stories.
He was not very fond of his days in school, and for very good reason. From the age of seven to nine, Dahl was a pupil at Llandaff Cathedral School . Then, between the years of 1925-1929, Dahl attended St. Peter's prep school in Weston-Super-Mare , where he experienced great homesickness, but even worse for Dahl was the school's administration. The teachers and headmaster of St. Peter's ruled by the cane, and Dahl experienced their harshness on more than one occasion. When Dahl was thirteen, he began his schooling at Repton, a famous public school in Derbyshire. He was not much happier there, but he did enjoy sports, excelling at heavyweight boxing and squash.
At the age of eighteen, Dahl joined the Public Schools Exploring Society's expedition to Newfoundland instead of continuing his education at the university level. After his time in Newfoundland, Dahl became a Shell Oil Company representative in Dar es Salaam . Then, at twenty-three, WWII broke out and he joined the Royal Air Force in Nairobi . Dahl was trained as a pilot officer with the Gladiator fighters and spent most of his time in Iraq . While he was flying to the Western Desert of Libya to join his squadron, Dahl's plane crashed, but he later recovered to fly again in Hurricanes. Eventually, he was sent home as an invalid, but transferred in 1942 to Washington as an air attaché.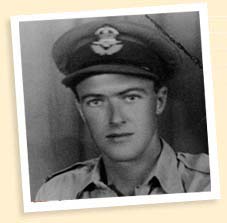 A young Dahl in his air force uniform, 1941.
Family
Roald Dahl's first wife was Patricia Neal, a Broadway and Hollywood actress, whom he married on July 2, 1953. They moved to New York so that Pat could act, but spent the summers in England . Together they had five children: Olivia, Theo, Tessa, Ophella, and Lucy. He married again in 1983, following his divorce with Patricia. His second wife was Felicity "Liccy" Crosland, whom he met in 1972. Today, Patricia and Liccy are good friends and Dahl was able to enjoy the support of a large extended family from his two marriages.
Despite Dahl's success as a writer, he experienced many tragedies. His oldest daughter, Olivia, died at the age of seven after she fell ill with the measles, which turned into encephalitis, or inflammation of the brain. His four-month-old son, Theo, was involved in a road accident, which left his brain damaged. Dahl's first wife, Patricia, suffered from three consecutive strokes in 1965, while pregnant with their
daughter Lucy at the age of thirty-nine. Roald took it upon himself to set up a rigorous program for
Pat to help her recover, and took care of running the house. Thanks to his support, Pat was able to
give birth to a healthy baby girl, recover completely, and return to her acting career. Dahl
experienced many medical problems of his own, including crippling back pain that required
him to undergo two spinal operations. Throughout his life, Dahl had eight major operations and a
few minor surgeries. Shortly before Dahl's own death, tragedy struck his family again. His
stepdaughter, Lorina, died of a brain tumor.
Writing
While in Washington in 1942, Dahl went to lunch with C.S. Forester, author of Captain Hornblower . Forester wanted to publicize the British war effort and asked Roald to give an account of his time spent serving in the war, which Forester would write about in the Saturday Evening Post . Instead, Dahl chose to write about his experiences on his own and sent them to Forester, who wrote back, "Did you know you were a writer? I haven't changed a word." Dahl's work was published in the Post anonymously in August 1942 under the title "Shot Down Over Libya." For the first time, Dahl was a writer.
He published his first children's book, The Gremlins, in 1943. It was a picture book, and though Roald himself was neither fond of it, nor did he believe it was a children's book, it launched his career as a writer. Dahl's career as a children's author really picked up in 1960 when he had children of his own. From 1943 to 1960, Dahl devoted most of his time writing short stories for adults.
His first short story appeared in the Saturday Evening Post in 1942 and it was titled "A Piece of Cake." He went on to write sixteen other stories for the Post and also published stories in other magazines. His most famous story is "Lamb to the Slaughter," which describes how a woman beats her husband to death with a frozen leg of lamb. The leg of lamb is then roasted and served to the policemen who question the wife about her husband. Roald comments on this story saying, "It wasn't nasty. I thought it was hilarious. What's horrible is basically funny. In fiction." For his stories, Dahl won the Edgar Award from the Mystery Writers of America three times, and many of his works were adapted for the television show Tales of the Unexpected . Needless to say, Dahl's short stories were a far cry from the many famous children's novels that he would go on to write.
Dahl in his favorite writing spot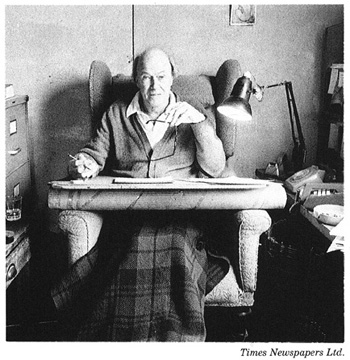 His Final Chapter
Roald was diagnosed with a rare blood disorder, myelo-dysplastic anemia, in 1990. In a letter to his fans, Dahl writes, "I've been a bit off colour these last few months, feeling sleepy when I shouldn't have been and without that lovely old bubbly energy that drives one to write books and drink gin and chase after girls." He died on November 23, 1990 at the age of seventy-four, but was working on his books up to the very end. And his books remain incredibly popular, selling around 40 million copies of the UK editions, with more than 2 million copies sold each year. In the United States , Dahl's books are even more popular today than they were during his lifetime, which is saying a great deal, as his books were a great success while he was alive.